A long queue met the opening of First State Compassion Center, the first dispensary in Delaware, thus making it the second state in the region to make its debut in the growing medical marijuana industry after New Jersey.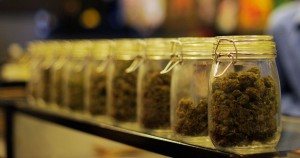 The differences between the programs and dispensaries in New Jersey and Delaware are stark. In New Jersey, an ounce at the three dispensaries goes for $500 to $550, plus tax. In Delaware the cost is about $100 less per ounce, and is not taxed. First State also says prices will be discounted for seniors, veterans, and low-income patients. Only Delaware residents may enroll in the program.
On opening day, patients began lining up before 7 a.m., though the dispensary did not open until 10:30. Paul Hyland, the State Public Health Administrator said, "Having that many people wait in line sort of breaks my heart a little bit because we're not talking about a healthy population", adding that some arrived in wheelchairs. Hyland added that the program opens a new chapter in relating with patients and excited that the dispensary is open.
Delaware's 2011 marijuana law initially did not allow children with serious illnesses to participate in the program but Gov. Jack Markell signed a bill to change that after parents lobbied the legislature. However, parents or guardians will only be allowed to buy cannabis oils for sick children that must contain a low percentage of THC.
Concerned that the federal government would prosecute participants, Markell initially delayed the program. After receiving assurances that the Obama administration would not punish those who adhere to the state programs' regulations, Markell moved ahead with the implementation.
The First State Compassion Center would operate under a pilot program for one year after which the State will evaluate whether the other two dispensaries, as called for by the law, may open.